Dietech Lite
Basic tray card software system that prints a meal ticket with the resident's specific items (drinks, food, allergies, adaptive equipment and special requests) and a list of all their dislikes.
Great for a facility that is looking to replace their outdated manual card system or taking the first step into an electronic system.
Generate tallies for Meal, Beverage, Nourishment or Thickener with ease.
Meal tickets can be printed in color, in different sizes, and ordered by room, facility order or alphabetical.
The program works well for nursing homes, assisted living, and long term post acute care.
Meal/Tray Tickets
Basic tray ticket which includes; name, room, diet, date, adaptive equipment, allergies, specific food and beverage items, dislikes, likes, and other notes.
Optional color printing of sections of the meal ticket.
Different ticket size options (3, 4, 6 part).
Print order by room, facility preference or alphabetical.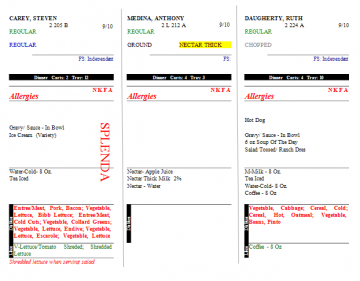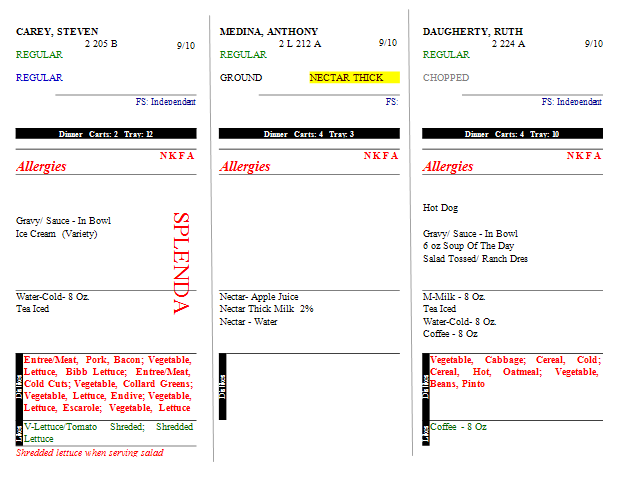 Resident Data Grid
Starting place to manage all your residents and generate reports.
Navigate with ease; adding in new residents, searching for existing residents, discharging and readmitting within one screen.
Sort and filter by unit, room, name, diet, age or weight.
Display resident profile picture on grid and on meal tickets.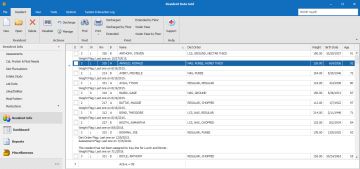 Meal Pattern
One screen to control resident's nutritional needs.

Specific meal, beverage and nourishment items with day rotation.
Resident diet, portion sizes, food allergies, adaptive equipment.

List location or seating assignments for meals.
Provide useful ticket notes and feeding status to nursing staff.
Verify tray ticket accuracy and print on demand through the visualizer.
Print meal pattern/cardex for careplan meetings.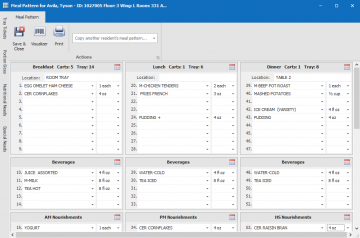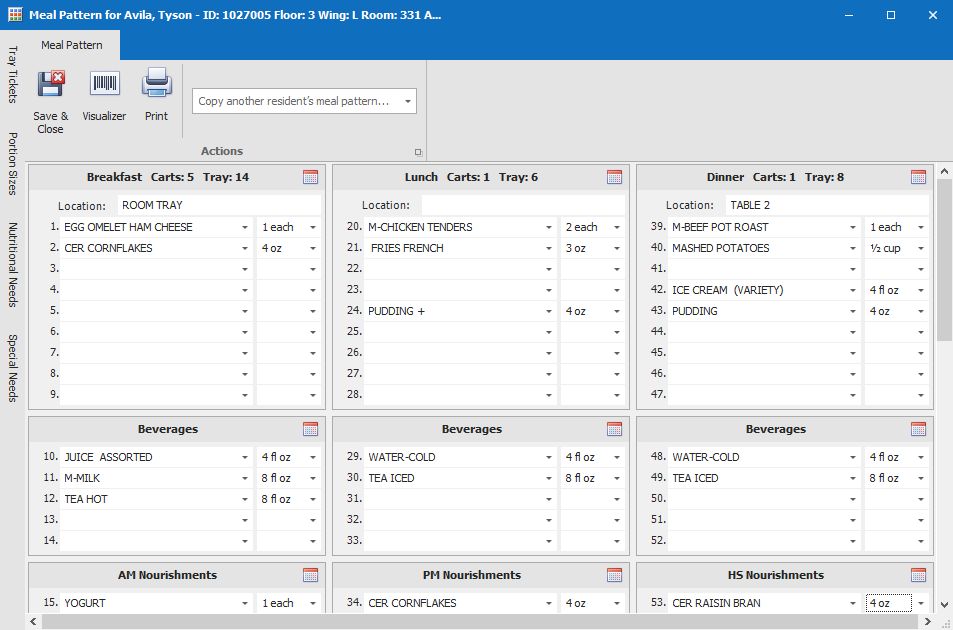 Dislikes/Likes
Ensures that your residents requests are met by controlling dislikes and likes that are displayed on the tray tickets.
Provides reports based on dislikes of specific items to aid in meal preparation.
Helps reduce waste by not over producing.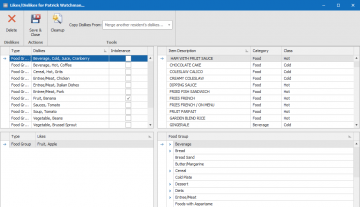 Tallies: Beverage/Meal/Nourishment
Mealtime reports for beverages and resident specific meal items.
Nourishment tallies by facility time that can be broken down by unit.
Also available are supplement, thickener, adaptive equipment, allergies, and diet census reports; just to name a few.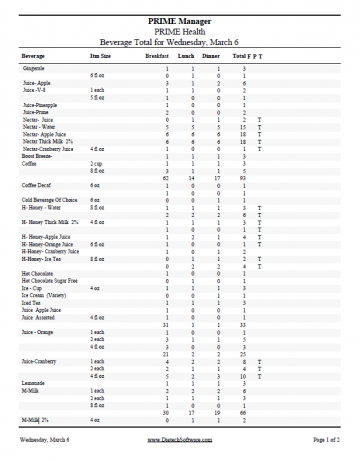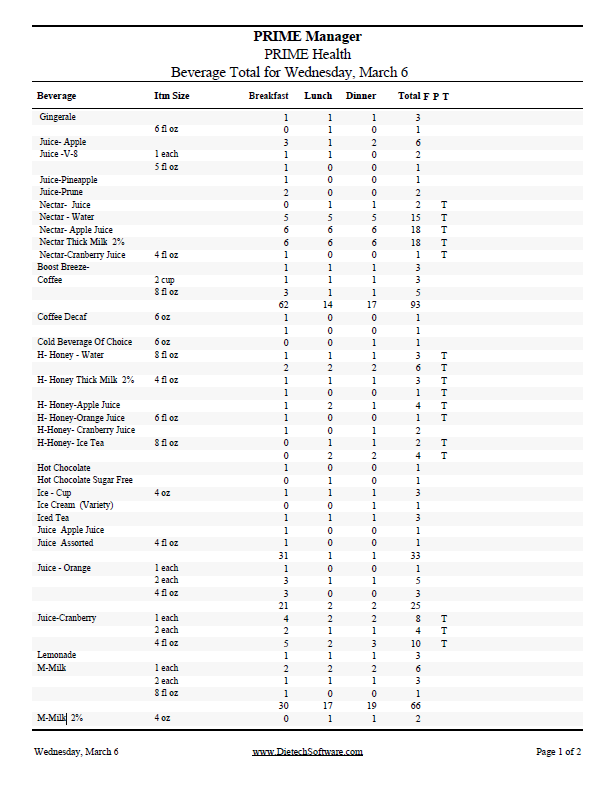 Nourishment Labels
Easy to generate and print labels.
Tally of daily required nourishments.
Helpful for nursing and dietary staff to give the assigned nourishments at the proper times.
HIPPA compliant label (not shown).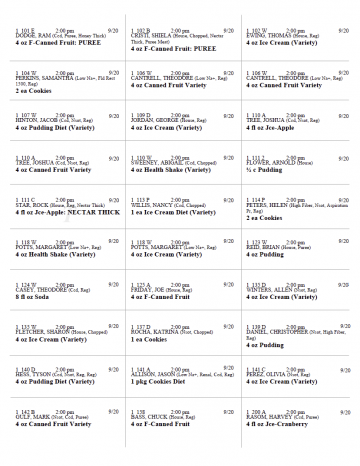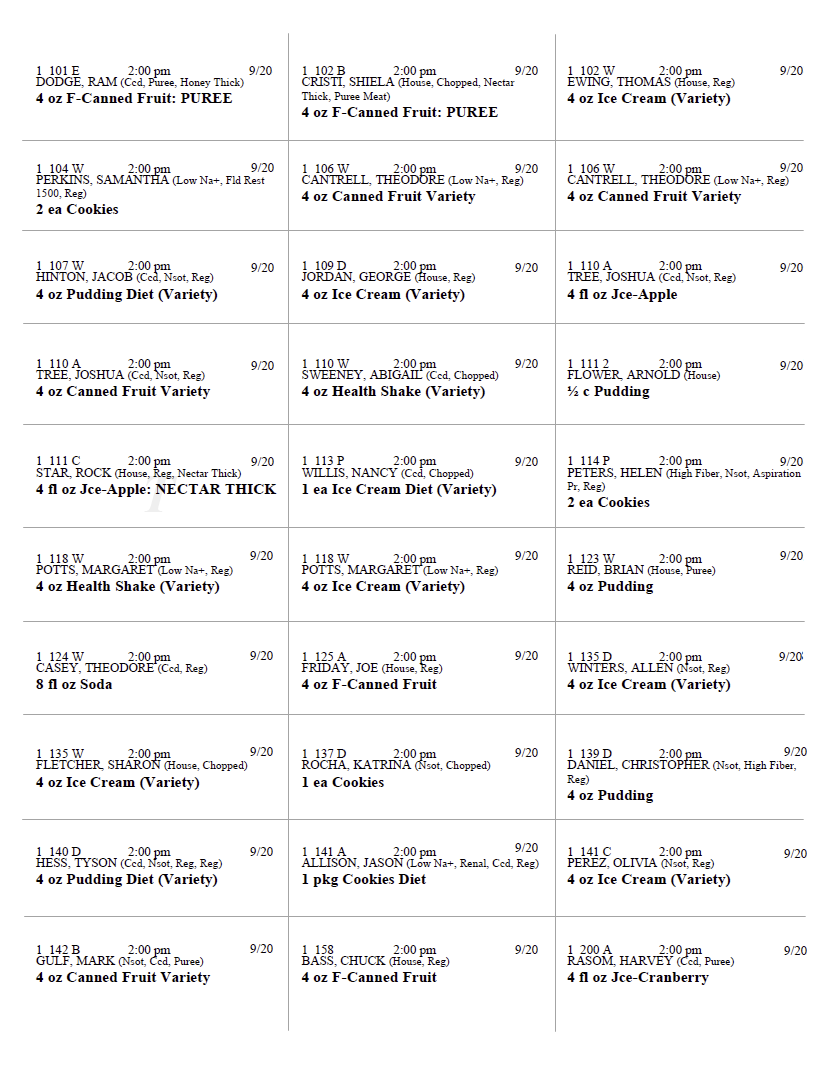 Meal & Nourishment Acceptance
Consumption report for your nursing staff to record resident intake for meal and nourishments in both a daily and weekly format.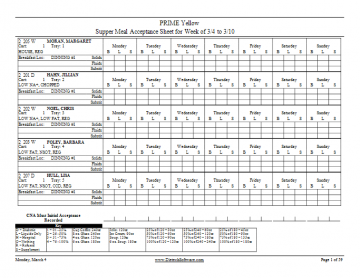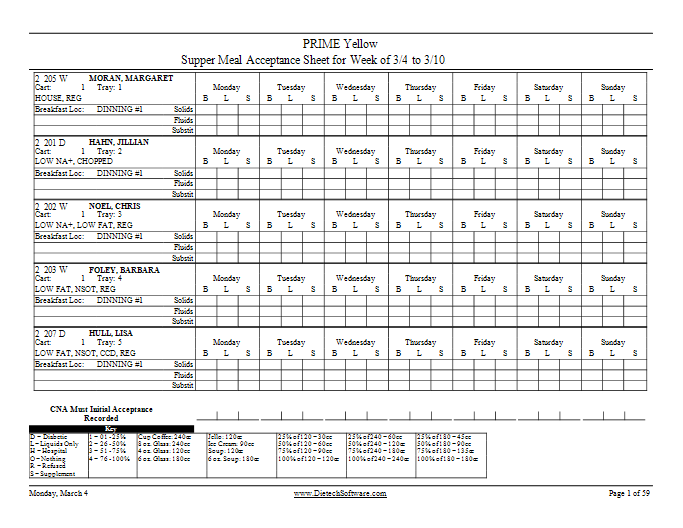 Weights
Track, monitor and generate resident daily/weekly/monthly weights.
Track and generate significant weight gains/losses (30, 90, 180 days) reports
Notifications for missing weights.
Auto BMI calculations.