Dietech Production
Takes the Lite program and adds in the menu, allowing the meal tickets to print out only the dislikes and likes that pertain to that meal.
Performing intake studies is easy.
Professional looking Nutritional Assessments can be completed within the program that includes labs, weights and decreasing charting time.
Tube feed reports and calculations are all at your fingertips.
We even have a 3 to 8 week menu cycle available with the program that can be altered to meet your facility's needs.
Posting menu available.
Warning notes can let you know when a resident is due for assessment, weight or even a diet order review.
This program can be used in standalone and corporate healthcare facilities.
Variety of sizes available for tray cards.
Ideal for small to mid size skilled nursing facilities and Continuing Care Retirement Communities.
Meal Tray Tickets
1, 3 and 4 Part
Custom Side notes
Ability to highlight and color key text
Set up in the order that you would like the food/drink items listed according to your internal needs
Clear instructions to staff of residents needs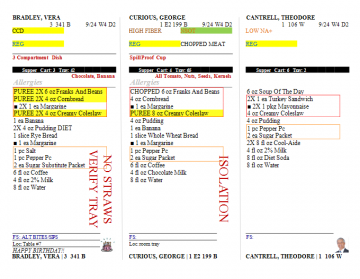 Tray Ticket Visualizer
Easy way to view the meal for each individual resident to make sure they are getting their preferred items.
Shows modifications from menu cycle.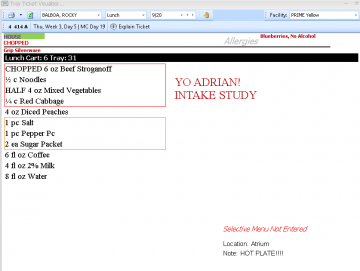 Tray Ticket Explanation
Gives your employees the information behind why a resident is getting what they get on their tray tickets
Shows why an item is changed for a resident based on diet order, adjustments, etc.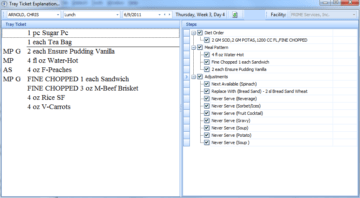 Selective Menu
Resident gets to choose what they want.
Food and labor costs are kept down.
Less waste.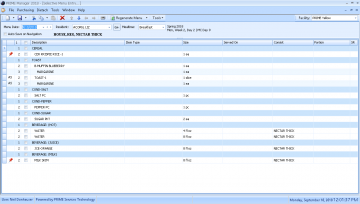 Automatic Diet Order Changes (AIM)
Items
Ability to create a new item.
Attach recipes to the item.
Mark Production area.
Add in food group, portion sizes and allergy group.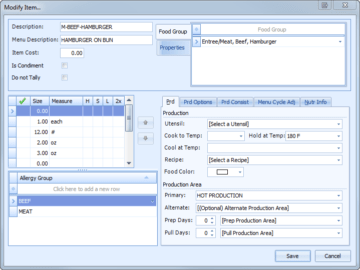 Resident Data Grid
Starting place to manage all your residents and generate reports.
Navigate with ease; adding in new residents, searching for existing residents, discharging and readmitting within one screen.
Sort and filter by unit, room, name, diet, age or weight.
Display resident profile picture on grid and on meal tickets.
Warnings to Staff for missing diet order, weights, tray line assignment, and assessments.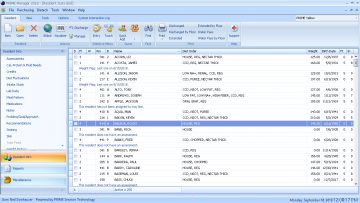 Meal Pattern and Adjustments
Helpful Location to meet resident's special needs, likes, dislikes, allergies and special requests.
Makes Tray tickets custom for each resident.
Ability to add the additional items they would like, never serve, modify and replacements.
Can also add 2X the portions or add to menu items.
Place where exceptions can be made for diets, consistencies from the menu cycle.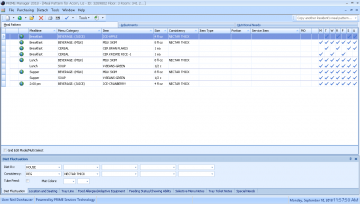 Extension Sheets
Clear wrap up of menu cycle and diet/consistencies on one report for review.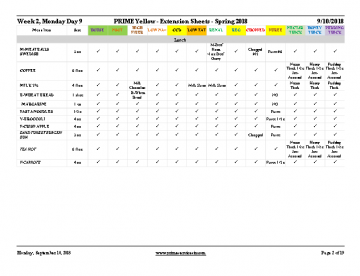 Nutritional Analysis
Way for your facility to view the % of daily requirements for the entire facility or each specific resident.
Full Day or by meal.
Ability to choose what nutrients needed for reports.
Can produce reports for specific diets/consistencies.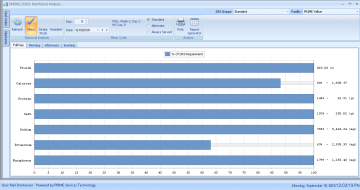 Nourishment Labels
Easy to generate and print labels.
Tally of daily required nourishments.
Helpful for nursing and dietary staff to give the assigned nourishments at the proper times.
HIPPA compliant label (not shown).
Include feeding status or diet order on nourishment label for resident safety.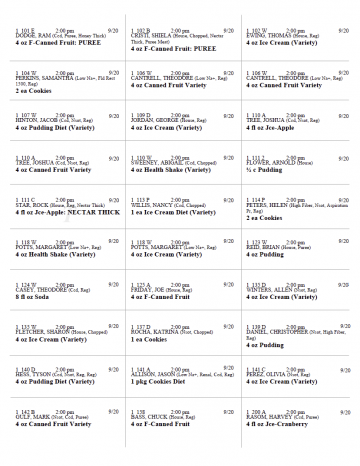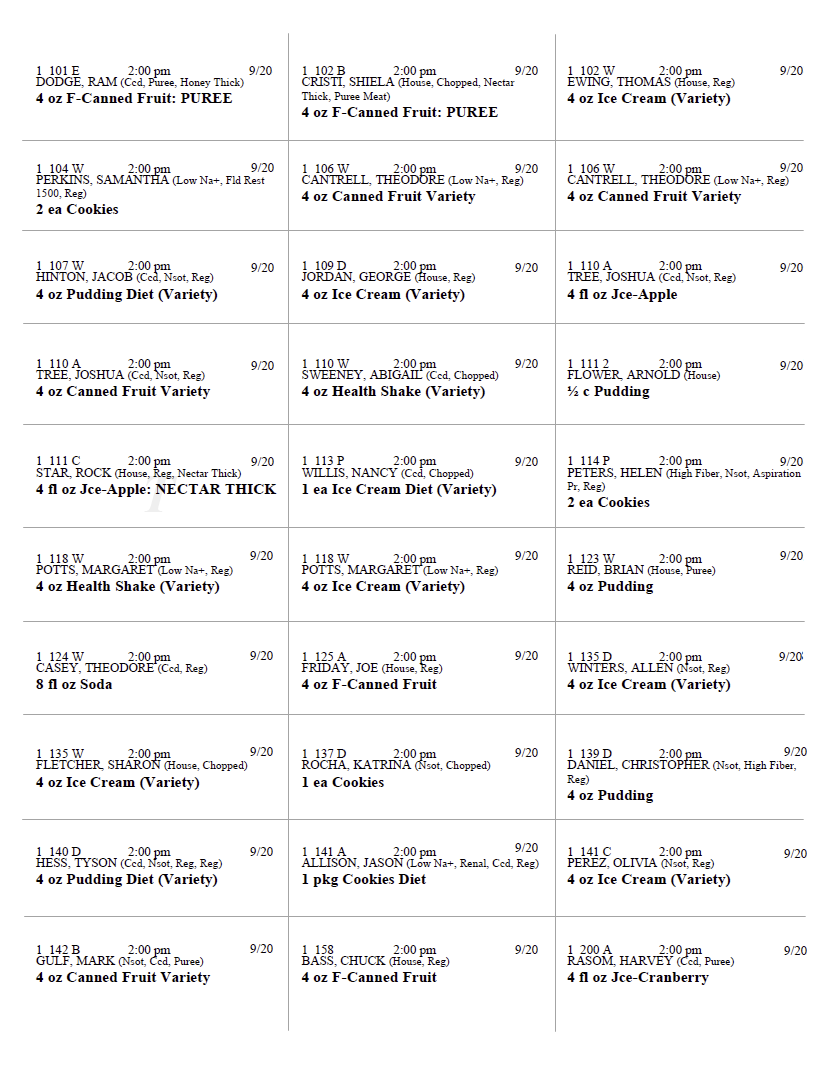 Meal/Nourishment Acceptance
Consumption report for your nursing staff to record resident intake for meal and nourishments in both a daily and weekly format.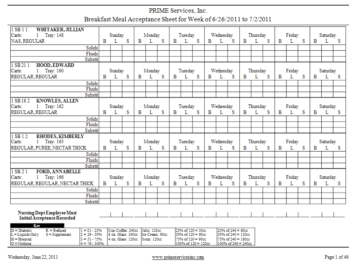 Weights
Track, monitor and generate resident daily/weekly/monthly weights.
Track and generate significant weight gains/losses (30, 90, 180 days) reports.
Notifications for missing weights.
Auto BMI calculations.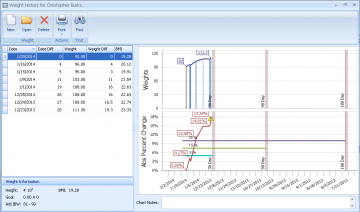 Significant Weight Gain/Loss
Reports that reflect residents who have had a significant weight loss or gain based on the facility's parameters.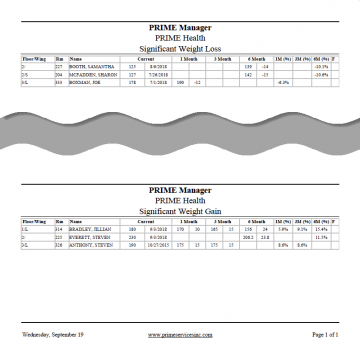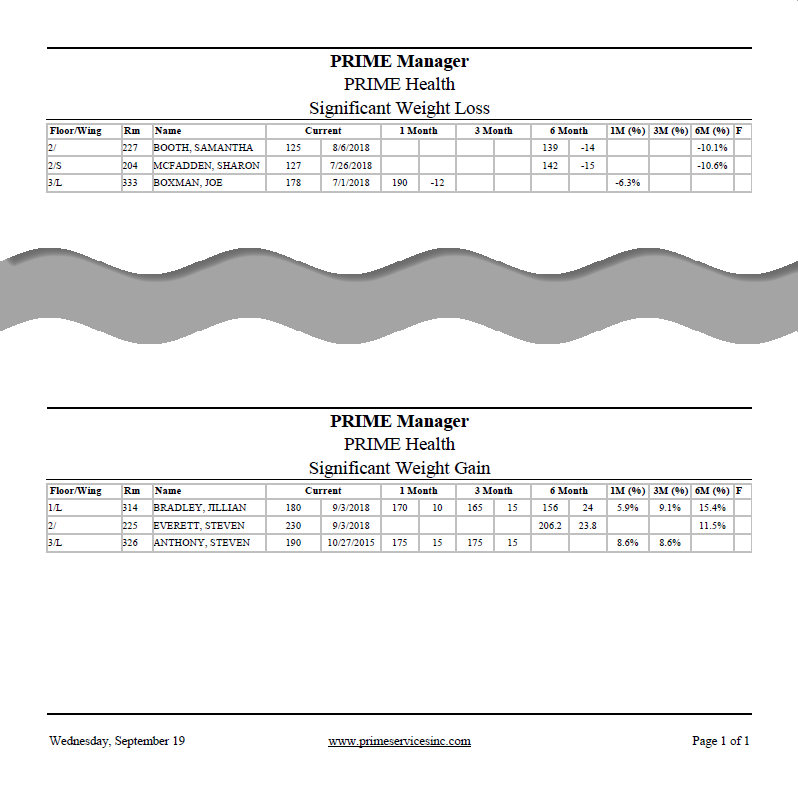 Intake Study - Nutritional Calculations
Staff records consumption on an individualized resident intake report.
Intake range of 1 to 3 days.
Simple facility specified nutritional values that display how much the resident has consumed for the average day range.
USDA nutritional values that display how much the resident has consumed for the average day range.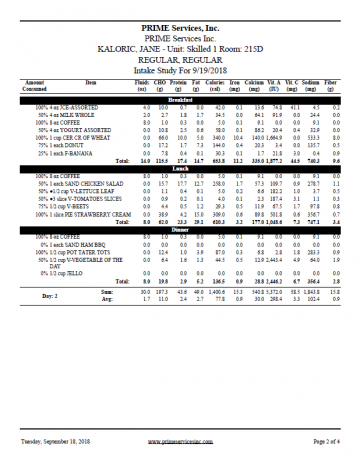 Tube Feed
Resident labels for delivery of tube feed products that include: Name, room, customized delivery time, product and diet order.
Tube feed calculation worksheet.
Tool for determining tube feed product's nutritional values, based on doctor's orders.
Summary, lists, and calculated reports on both individual and facility level.