Nutritional Assessment
Software that answers the Dietitian and Dietetic Technicians question of how do I do more in less time. The program reduces documentation time allowing the clinician to chart efficiently without sacrificing patient or resident contact.
Intuitive Nutritional Assessment software program that has been designed by RD (Registered Dietitians) & DTR (Dietetic Technicians).
Concise and professional looking assessment forms used in the long term care setting AND (Academy of Nutrition and Dietetics) Care Process made easier.
An active memory system allows you to spend less time doing repetitive entry and focus more time with your residents or patients.
Integration into our Dietary software, Dietech, allows you track resident specific items such as meal information, nourishments, like, dislikes, etc.
Great for Consulting Dietitians as you can have multiple facilities in one program at one time.
Enteral Feedings: Consulting Dietitians can calculate needs from within the program with automatically up-to-date product information from manufacturers such as Nestle Nutrition and Abbott Nutrition.
Automatic Calculations – Eliminate manual and miscalculation risks with having the formulas built into the assessment.
Print or electronically export assessments and care plans into PDF, Excel or Word files.
Determine Calorie, Protein and Fluid needs based on Actual Body Weight, Average Body Weight or Ideal Body Weight.
Follow up reports list when your next assessments is due.
Assessment Types: Comprehensive Nutritional, Quarterly Nutritional, Comprehensive Tube Feed and Monthly Tube Feed Review.
A completely customizable solution – the order, name and visibility preference of every section is controlled by you to meet the individual needs of your facility.
Comprehensive Nutritional Assessment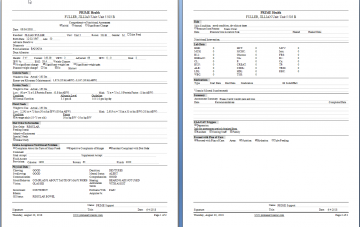 Nutrional Recommendations